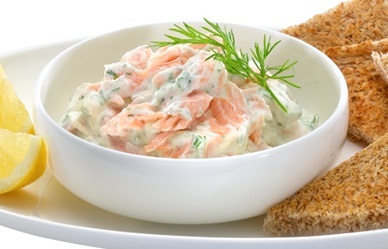 Ingredients:
170 g salmon fillet with the skin on
140 g Quark
Garlic granules
2 tbsp fat free Greek yogurt
2 tsp roughly chopped dill
1 tsp lemon juice
1 lemon, cut into wedges, to serve
Seasoning
---
Method:
Place the salmon, skin side up in shallow microwaveable dish and cover with food wrap. Cook the fish in the microwave at 650W for approximately 3-4 minutes.Meanwhile, in a large bowl mix together the Quark, garlic, yoghurt, dill and lemon juice. Season to taste.
Drain the fish on kitchen roll, remove the skin, flake the flesh into large pieces and allow it to cool slightly.
Gently fold the fish into the Quark mixture.
Spoon a rough mound of pate on to serving plates and serve.
---
Serves: 4
Syn Value (Per Serving): Free
Preparation Time: 10 minutes
Cooking Time: 4 minutes
Difficulty: Easy