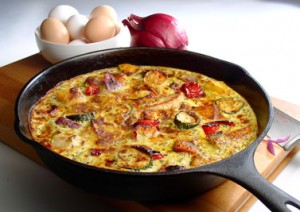 Ingredients:
Eggs
Peppers
Onions
Mushrooms
Any veg!
Frylight
Salt/Pepper
Method:
Chop all vegetables into bite-size chunks.
Fry vegetables in Frylight in a non-stick frying until golden brown.
Whisk 4-6 eggs together and season.
Pour over vegetables in frying pan and cook on hob for 5-7 minutes.
Once the base is solid place under a hot grill (still in frying pan) until the top layer is cooked and golden.
(cheese can be added before putting under the grill but remember to syn or HEA)
Perfect with spicy wedges…
Serves: 6
Syn Value (Per Serving: Free
Preparation Time: 10 minutes
Cooking Time: 15 minutes
Difficulty: Easy