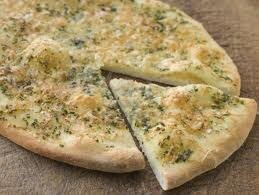 Ingredients:
Full packet of Smash
3 Garlic Cloves, crushed
Frylight
Mixed herbs, parsley
1 egg yolk
160g low fat cheddar
---
Method:
Mix Smash with boiling water into a thick dough-like mixture, allow to cool until comfortable to handle by hand.
Form the dough mixture into a pizza shape around 1/2inch thick.
Place on a hot baking tray sprayed with Frylight and cook at 200dg until golden brown on both sides, flipping intermittently to ensure it cooks evenly.
To ensure the base is cooked press firmly on the centre with your index knuckle. If the mixture feels loose or spongy return to the oven until firm and crisp.
Once the base is cooked, paint the top with the egg joke. Sprinkle with your mixture of herbs, parsley and garlic then add your cheese. Spray lightly with Frylight.
Return to the oven and cook until cheese is golden brown and gooey!
---
Serves: 4
Syn Value (Per Serving): Free if used as part of a meal
Preparation Time: 5 minutes
Cooking Time: 30 minutes
Difficulty: Moderate