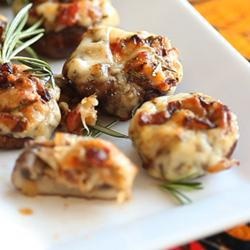 Ingredients:
cottage cheese
Fresh chopped tomatoes
Mixed herbs
Chill flakes
40g reduced fat cheese
1 egg
garlic granules
salt & pepper
---
Method:
mix half a tub of cottage cheese with an egg, add a teaspoon of garlic granules, salt & pepper and mixed herbs. Mix well.
Add chopped tomatoes and sprinkle in chilli flakes and fold together.
Clean and remove mushroom stalks then spoon some mixture into each mushroom. Sprinkle on cheese and bake in oven for 15-20mins.
---
Serves: 4
Syn Value (Per Serving): Free if using cheese as HE A
Preparation Time: 10 minutes
Cooking Time: 20 minutes
Difficulty: Easy