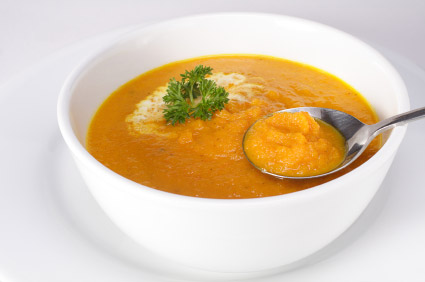 ---
I originally started to make the Slimming World carrot and ginger soup, but realised when chopping the carrots that I had none of the other ingredients! However, I adapted and came up with this spicy winter soup, so I hope you enjoy it. 

---
Ingredients:
500g carrots, peeled and sliced
1 medium sweet potato, peeled and diced
1 medium onion, chopped
2 cloves garlic
Mild curry powder, to taste. I used a tablespoon.
Half a yellow pepper, sliced and diced.
1 litre chicken stock
---
Method:
Using Frylight, fry all of the ingredients together for about 5 minutes.
Add the stock, bring to the boil, then simmer until the vegetables are soft enough to blend.
Blitz them until the soup is smooth.
---
Serves: 6
Syn Value (Per Serving): Free
Preparation Time: 15 minutes
Cooking Time: 30 minutes
Difficulty: Easy