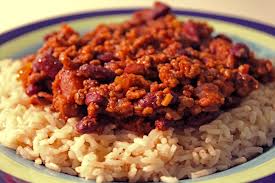 Ingredients:
300g Quorn mince
Fry Light
Large onion, chopped
2 tins kidney beans, drained
1 tin baked beans
2 tins chopped tomatoes
Quarter tspn each of: mixed herbs, italian herbs, dill, rosmary, oragano, thyme
2 bay leaves
Half to 1 full jar of Asda or Tesco mild chilli powder – yes really!
3 cloves garlic, crushed or finely chopped
Seasoning to taste
---
Method:
Fry the onions in Fry Light for about 5 minutes.
Add the mince and tomatoes, chilli, herbs and garlic and heat gently.
Add the baked beans and kidney beans and simmer for 20-30 minutes.
Syn Value: Free
Serves: 8
Preparation Time: 10 minutes
Cooking Time: 30 minutes
Difficulty: Easy
Remove the bay leaves before serving, and don't worry about putting a full jar of chilli in – if you use Asda's or Tesco's own mild brand you'll get all the taste without too much heat.
---
Serves:
6
Syn Value (Per Serving):
Free
Preparation Time:
10 minutes
Cooking Time:
30 minutes
Difficulty:
Easy
Serve with rice and/or baked potatoes. This is delicious with cheese sprinkled on the top so feel free to use your daily portion for an extra yummy treat!