Oaty Pancakes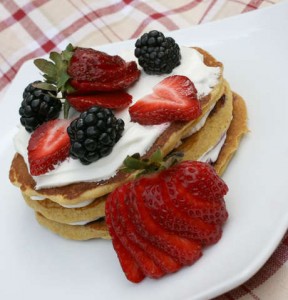 Ingredients:
1 Egg
35g Plain Porridge Oats
Frylight
Muller light Yogurt (flavour of your choice)
Sweetener
Method:
Mix all ingredients in a jug.
Heat a frying pan and add fry light.
Pour the mixture into small disc shapes into the hot pan and fry until golden and solid, flip in between cooking.
Serve with fresh fruit, natural yogurt and sweetener to taste.
Optional: add a few syns of honey or syrup for that extra treat!
Serves: 1
Syn Value (Per Serving: Free
Preparation Time: 5 minutes
Cooking Time: 10 minutes
Difficulty: Easy