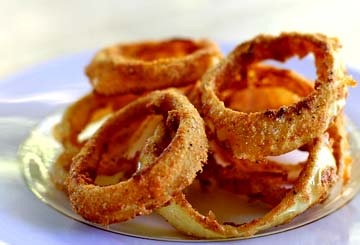 Ingredients:
Onion
Smash powder
1 egg (in a bowl whisked)
Frylight
---
Method:
Slice onions into 'loops'.
Fry them in a frying pan for a couple of minutes until starting to soften, then transfer to a cool surface.
Dip in egg then in the Smash mix and transfer to a Fry light sprayed baking tray.
Oven cook under a medium heat until golden brown (Turn them after a while to even it out).
---
Serves: 4
Syn Value (Per Serving): Free if used as part of a meal
Preparation Time: 5 minutes
Cooking Time: 10-12 minutes
Difficulty: Easy