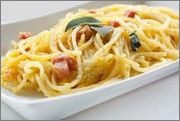 Ingredients:
600 g spaghetti
6 rashers bacon cut into stripes
180 g Quark
2 egg yolks
3 stalks flat parsley leaves picked and chopped
300 ml vegetable stock
---
Method:
Cook the pasta according to the pack instructions.
While it's cooking fry the bacon pieces in a large pan, add the veg stock and simmer for a few minutes until the liquid is reduced by half.
Beat together the Quark and the egg yolks in a separate bowl.
Once the pasta is cooked, drain it and return it to the hot pan, add the bacon and stir through, add the Quark and egg mixture and stir through well to combine everything.
Serve with fresh parsley to garnish.
---
Serves: 6
Syn Value (Per Serving): Free
Preparation Time: 10 minutes
Cooking Time: 15 minutes
Difficulty: Moderate